Discovery Centre - Franchising
Are you making a career switch because you would like to start your own business and take ownership of your success? Is the thought of it daunting to you? Does it feel like the biggest decision of your life?
At Tutor Doctor, we not only change the trajectory of students' lives but the lives of entrepreneurs as well! As part of our growing franchisee family across the globe, you will get the support and the training you need to be successful.
With our solid research and discovery process, you can be confident you're making the right decision.
What is a franchise business?
Starting your own business brand from scratch involves breaking through a mire of competitors and well-established names...and years of brand-building.
What many entrepreneurs opt for is a ready-made brand that has already built a solid reputation with its target audience, has all the right vendors in place and is a great cultural fit on top of that! This is the key driver behind franchise ownership.
Franchising is a mutually beneficial partnership between a franchisor (the Brand Headquarters) and the franchise owner (potentially, You!).
The Headquarters develop a brand, marketing, and growth strategy that every franchisee delivers in their own markets. This allows the franchisee to start a new business with a shorter ramp-up period because the foundational aspects of the company are already done.
However...
It is still your business to start and run. So, there's a lot of effort and time spent by the franchisee learning the brand's processes and actually doing the work in the market. But fear not - there are people at the Headquarters to help you with every step along the way!
You're in business for yourself - not by yourself. And that includes a network of other franchisees working with the same brand who are there to lend a helping hand.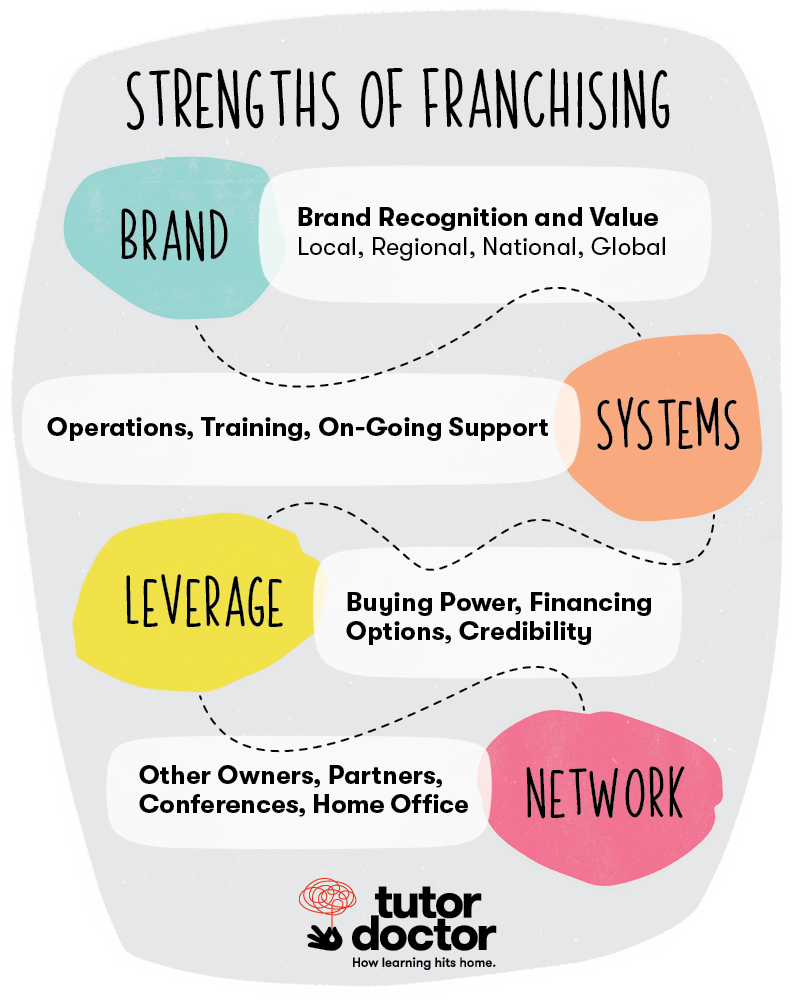 Ask these questions when choosing a franchise...
How long has the franchisor been in business?
What is the ramp-up period from launch to a stable business?
What training is provided upfront and ongoing?
What support do they provide?
What are the startup fees? What are the ongoing fees?
How are the territories structured?
Who are the suppliers and what is required?
Would the franchisees do it again?
What is the typical revenue and profit to expect?
Do you need special qualifications or licensing to operate?
What is the potential for growth in the industry?
How is the service or product marketed?
Do your personal core values align with the company's?
Who is on the leadership team and what is their success story?
How are they innovating?
What is their reputation in the industry?
Why our Franchisees Chose Tutor Doctor
"My experience with Tutor Doctor has been excellent and I'd do it all over again in a heartbeat. From my first conversation with Tutor Doctor's Franchise Director, through my extensive research, and up to today, Tutor Doctor has been extremely committed to our success. Another big plus has been Tutor Doctor's ongoing training in both education and business topics, which occurs weekly, monthly, quarterly, and during very well-organized annual franchisees' conventions."
"From the first time I met the Tutor Doctor leadership team, I was blown away at how passionate the company was about helping people and how much they cared about the success of their franchisees and tutors. I attribute my success to the continued passion and commitment demonstrated by everyone involved in the system and look forward to a bright, rewarding future with Tutor Doctor."
"The initial training was some of the best training I've been to for anything – it's excellent. The support is the same thing. We doubled in size in the last two years!"
"We have helped over 1,000 children over four years and there is immense personal satisfaction in helping students be the best they can be. In terms of personal lifestyle, I no longer have a 2.5-hour commute and I have the flexibility to take my children to school."
"The operational backbone that Tutor Doctor provided for me was really what helped me to scale my business in a way that I had never done before."
Video: Why Tutor Doctor was Founded and Why the Future is even Brighter.
Video: From our Franchise Owners
What Makes them Successful
Video: How to Hire Tutors
Video: Top Takeaways from New Owners